2007-2020 Chevy Tahoe Full Suspension Lift Kit & Spring Compressor 2WD 4WD
Description:
2x Front Lift Billet Spacers
2x Rear Lift Spacers
2x Spring Compressors
Installation instructions
Note: ONLY the 3.5" Lift kits come with an additional 2x Bottom Strut Spacers.
IMPORTANT: Non-airbag / Auto-ride
*Aftermarket Uniball UCA is highly recommended on 2019+ models when front lift is higher than 2.5". The upper ball joint will wear out rapidly with use of stock UCA.
Our Pro-Billet series full lifts are designed to accurately lift and level your truck for a truly customized ride. Our front lift are also designed to mount directly to your factory struts for a seamless install process. Our Supreme rear coil spacers are precision engineered to lift and level your truck with ease. Each front and rear lift spacer is CNC machined from solid 6061 T6 billet. We use Billet specifically for our precision parts requiring high stiffness, low friction and excellent dimensional stability. Unlike polyurethane style spacers, our rear spacers will not dry up and will maintain a proper lift amount for the life of your vehicle. We complete this kit with our heavy duty spring compressor. This compressor tool helps compress the spring on your strut making removal and installation a breeze. Each compressor tool comes with hardware to secure the tool safely to strut to prevent the spring from coming loose. All Supreme Suspensions products are developed and rigorously tested by in-house ASE certified specialists to ensure the proper road safety.
NOTES: An alignment is always recommended after altering the height of your vehicle.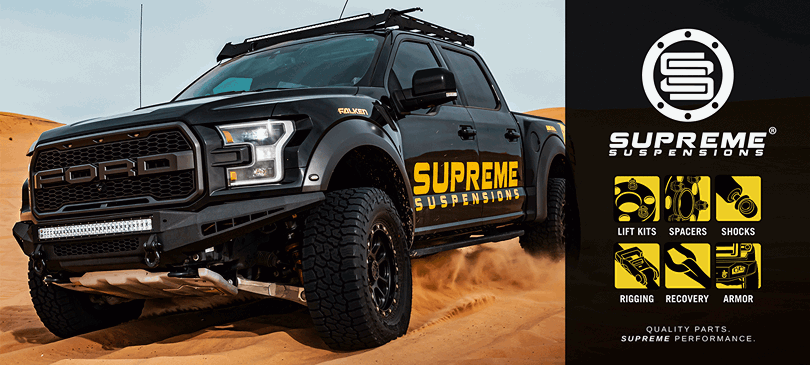 PRODUCT REVIEWS