2003-2013 Dodge Ram 2500 Full Suspension Lift Kit 4WD 3.5" Rear Axle | SUPREME'S NEW HD STEEL LIFT BLOCKS!
Description:
Features:
2x High-Strength Steel Front Lift Spacers
2x High-Strength Steel Rear Lift Blocks with 3/4th Pin
4x Premium Electrostatic Powder Coated U-Bolts
Installation Instructions
IMPORTANT: U-BOLTS FIT 3.5" AXLES ONLY. PLEASE CONTACT OUR CUSTOMER SERVICE TEAM IF YOU ARE UNSURE ABOUT YOUR REAR SPRING SETUP.

Dodge Ram 2500 Suspension Lift Kits increase ground clearance. The extra clearance for the Lifted Dodge Ram 2500 allows you to install larger tires to gain additional height for better visibility. Larger off-road tires help improve off-road performance. Supreme Suspensions® offers 2", 2.5", 3", and 3.5" front and 1", 1.5", or 2" rear Dodge Ram 2500 lift & leveling options to enhance the clearance, performance, and look of your Dodge Ram 2500.
Dodge Ram 2500 Lift & Leveling Kits
Supreme Suspensions full lift Kits for Dodge Ram 2500 are engineered to lift and level your truck for a truly customized ride. Each front spring spacer is designed to mount directly to your truck to seat your spring properly without the need to cut or weld. Machined from ASTM-Certified Structural Steel Tube milled in Omaha, Nebraska to ISO 9001, and powder coated to prevent rust and corrosion, these spacers will ensure a lifetime of dependability under even the most extreme riding conditions.
Our 1" Heavy-Duty Steel Blocks are constructed from one solid block of Steel, while the 1.5" and 2" Rear Lift Blocks are precision machined from ONE 1/4" thick plate of Steel, 3 times bend and precision welded using heavy-duty GMAW seam and fillet welding processes to ensure maximum strength and a lifetime of dependability under even the most extreme riding conditions. To maximize their strength and resistance to deformation, we reinforced the structure of these blocks with a 1/4" thick CNC plasma cut center support structure, completely welded to the frame. These blocks can withstand an astonishing load of almost 60,000 lbs with no yielding or deformation observed!
We complete this kit with our Electrostatic powder coated U-Bolts and hardware, keeping everything secure to your suspension. All Supreme Suspensions products are developed and rigorously tested by in-house ASE certified specialists to ensure the proper road safety.
Notes: 4WD models with 3.5" rear axle only. If you have 4" axles please give us a call to place your order. An alignment is always recommended after altering the height of your vehicle.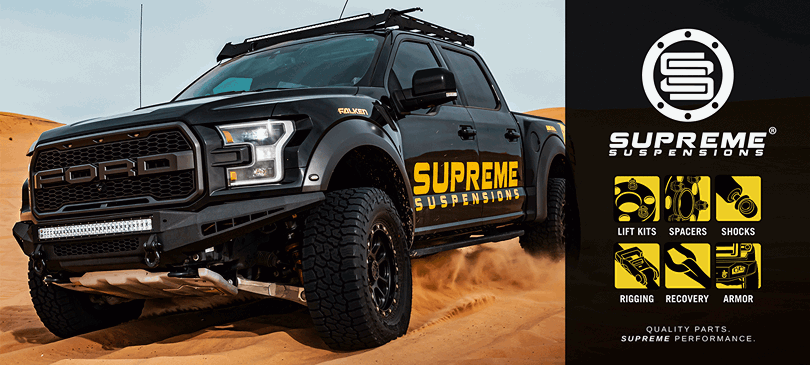 PRODUCT REVIEWS