1994-2018 Dodge Ram 1500 Front Steel Suspension Lift Kit 2WD 4x2
Product Number:
A1351 / DGRM94FL2000
Description:
Features:
Includes 2 Dodge Ram 1500 Steel Spring Spacers
Manufactured from High Strength .25" ASTM A36 (SS400) Steel.
Precision Laser Cut for OEM style fitment.
Salt Sprayed LAB Tested Protective Coating Prevents Oxidation, Corrosion and Rust.

Increases Ground Clearance.
Allows Installation of Custom Plus Sized Rims and Tires.
Simple Instructions for Easy, Do It Yourself Installation!
A Real Lifetime Warranty from an Established Company
*Designed for 2WD Rams with Independent Front Suspension (IFS).
*Will NOT Fit REBEL or TRX Models.
*Will NOT Fit models equipped with Front Solid Axle or AirRide Suspension System.
*Does not Fit Extended Cab Models / Mega Cab
Dodge Ram 1500 Suspension Lift Kits increase ground clearance. The extra clearance for the Lifted Dodge Ram 1500 allows you to install larger tires to gain additional height for better visibility. Larger off-road tires help improve off-road performance. Supreme Suspensions® offers 2", 2.5", and 3" front Dodge Ram 1500 lift & leveling options to enhance the clearance, performance, and look of your Dodge Ram 1500.
Dodge Ram 1500 Lift & Leveling Kits
Enhance the look of your Dodge Ram 1500 and run larger tires with Supreme Suspension® 2", 2.5", or 3" Front Lift Kit. Developed and rigorously tested by in-house ASE certified specialists, this lift kit is made completely out of Military Grade Armor Steel and designed by the experts with your OEM ride quality and comfort in mind as well as lifetime use.
Each piece is Precision Laser Cut for outstanding performance and quality and finished with a propietary coating to protect them against the elements, ensuring a lifetime of dependability under even the most extreme riding conditions.
If you're looking to level the stance of your truck, fit larger wheels and tires or some extra ground clearance out on the trails, we'll have a kit tailored specifically to your truck and your needs.
NOTES: An alignment is always recommended after altering the height of your vehicle. This kit will NOT fit Extended-Cab or Mega-Cab models.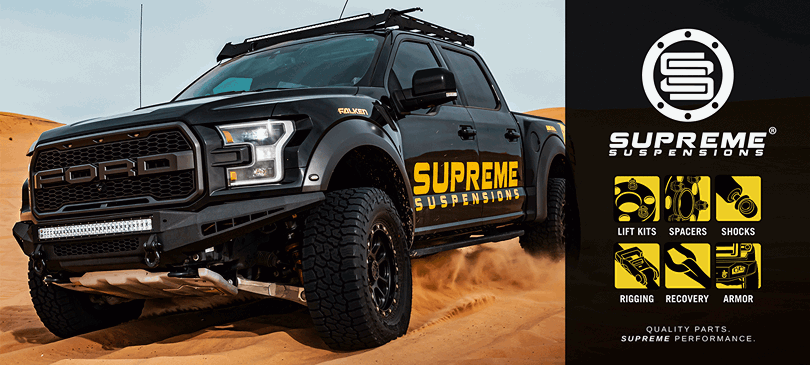 PRODUCT REVIEWS