1998-2003 Dodge Durango Full Suspension Lift Kit 2WD 4x2
Description:
Features:
2x Front Lift Spacers
2x Rear Lift Shackles
Installation instructions
Notes:
✘ Does not fit Extended Cab Models.
✔ Fits 2WD models only.
Dodge Durango Suspension Lift Kits increase ground clearance. The extra clearance for the Lifted Dodge Durango allows you to install larger tires to gain additional height for better visibility. Larger off-road tires help improve off-road performance. Supreme Suspensions® offers 2.5" and 3" front and 1"-2" rear Dodge Durango lift & leveling options to enhance the clearance, performance, and look of your Dodge Durango.
Dodge Durango Lift & Leveling Kits
For those who are interested in a quick, effective way to level out the front of your truck, or even just for an easy fix to get rid of that saggy front look from old over compressed springs. These spacers for Dodge Durango have proven time and again to provide customers with the fastest, most hassle-free install, while absolutely maintaining your smooth factory ride quality. Our rear shackle lift is the quickest and easiest way to lift your Durango. Our Rear shackles are made of High Strength Carbon-Steel and cut through a series of computer controlled processes, then coated to prevent oxidation and corrosion, keeping your kit looking great and functioning for years to come. Our kits install easily and does not require any cutting or welding, making them one of the easiest and safest kits on the market. Installation for the whole kit can be completed in 1-2 hours using hand tools. No cutting or welding required and comes with all hardware and installation instructions required.
NOTE: *An alignment is always recommended after altering the height of your vehicle.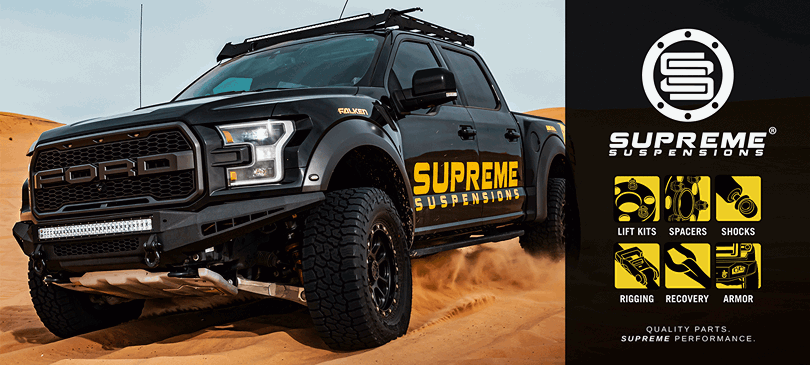 PRODUCT REVIEWS