1999-2019 Chevrolet Silverado 1500 2WD 4WD ± 1.5° Upper Arm Camber/Caster Alignment & Lockout Kit
Product Number:
A10647 / CHSL99CCBOLT
Description:
Includes Complete Set of Front Camber/Caster Alignment Kit
Includes Grade 10.9 Replacement Upper Control Arm Bolts, Washers, and Nylon Locking Nuts
Precision CNC Laser Cut from 3/16" Steel for Extreme Strength and Accurate Alignment.
Corrosion Resistant Black Powder Coating to Inhibit Rust, Corrosion and Subsequent Seizing.
Allows for ± 1.5 Degrees of Camber and Caster Adjustment, in 0.5 deg. Increments.
Replaces OEM Slotted Eccentrics with Fixed Adjustment Points.
Prevents Unwanted Changes to Alignment Caused by Off-Road Driving, Worn Eccentrics, and Lost Locating Pins.
Replaces OEM Locating Pins with High-Strength Flange Head Locking Hardware.
Prevents Expensive Damage Caused by Sudden and Extreme Changes in Alignment Cam Position.
Allows for Quick and Easy on Vehicle Adjustments
Incorrect camber adjustment will cause excessive tire wear on one side of the tire tread and, in some cases, it will affect the steering and handling adversely. Maintaining proper wheel alignment is required to prevent expensive ball joint, control arm, spindle, axle, hub, wheel and tire damage caused by sudden and extreme changes in alignment cam position.
Supreme Suspensions wheel alignment and locking cam plates, bolts and nuts, are a simple but very effective solution for gaining and maintaining proper wheel alignment after altering the geometry and suspension angles. Our Camber / Caster Lock-out Kit allows for +/-1.5 degrees of Camber and +/- 1.5 degrees of Caster adjustment (in 0.5 degrees increments) helping you to regain proper alignment on your lifted truck and achieve optimal alignment settings by adding negative camber in the front, thus offsetting the additional height.
NOTES:
*An alignment is always recommended after altering the height of your vehicle.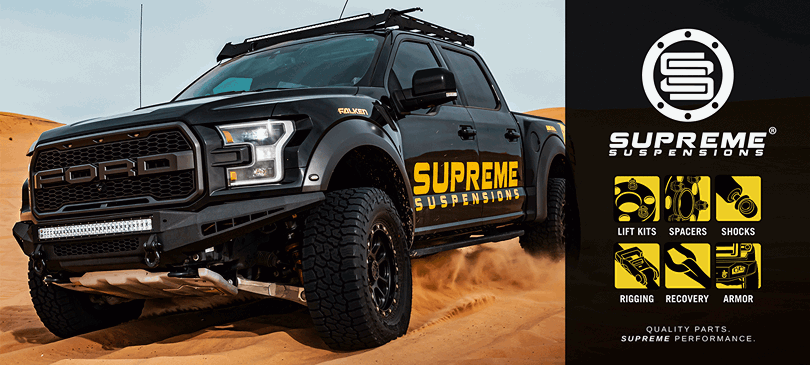 PRODUCT REVIEWS
Fantastic Product
Worked as it should. High quality hardware, and was easier than I expected to install. I live in the salt belt so later down the road if rust and corrosion makes it difficult to rotate the camber plate, I may weld a nut or cut a hex into the face to aid in rotating it but since it isn't able to slip like the OEM plates then the only reason you would need to adjust alignment is if something else bent or is worn out.