1993-1998 Jeep Grand Cherokee ZJ Full Suspension Lift & Spring Compressor 2WD 4WD
Description:
Features:
2x Front Delrin Lift Spacers
2x Rear Delrin Lift Spacers
2x Spring Compressors
Installation instructions
Jeep Grand Cherokee ZJ Suspension Lift Kits increase ground clearance. The extra clearance for the Lifted Jeep Grand Cherokee ZJ allows you to install larger tires to gain additional height for better visibility. Larger off-road tires help improve off-road performance. Supreme Suspensions® offers 2" and 3" front and 2" rear Jeep Grand Cherokee ZJ lift & leveling options to enhance the clearance, performance, and look of your Jeep Grand Cherokee ZJ.
Jeep Grand Cherokee ZJ Lift & Leveling Kits
Our Jeep coil spring spacer lift kits for Jeep Grand Cherokee ZJ have been specially engineered to be one of the easiest and fastest lift installs on the market. Designed to work with your existing factory components, these spacers install with ease and involve no additional modifications to be made to your suspension. We've also incorporated an integrated raised lip into each spacer to ensure proper spring alignment and prevent slip-outs under harsh suspension angles. Our lift spacers are constructed from Delrin due to its high crystalline composition to provide superior strength along with enough flex to maintain your stock ride quality. Our kit will not dry up and deteriorate like polyurethane spacers. We complete this kit with our heavy duty spring compressor. This compressor tool helps compress the spring on your strut making removal and installation a breeze. Each compressor tool comes with hardware to secure the tool safely to strut to prevent the spring from coming loose. All Supreme Suspensions products are developed and rigorously tested by in-house ASE certified specialists to ensure the proper road safety.
NOTE: An alignment is always recommended after altering the height of your vehicle.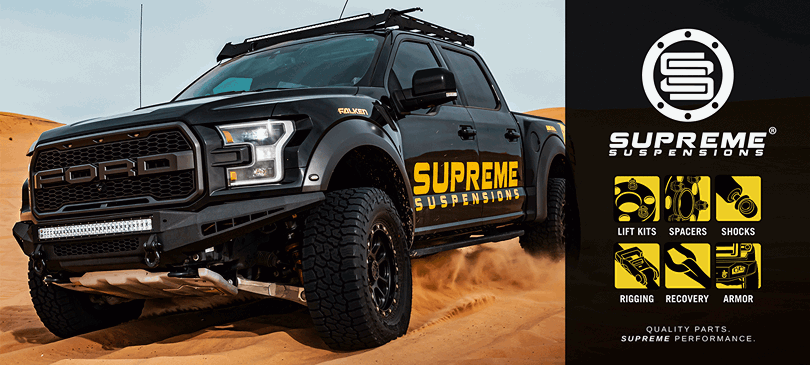 PRODUCT REVIEWS