2006-2022 Dodge Ram 1500 Front Suspension Lift Kit & Spring Compressor 4WD
Description:
Features:
2x Front Billet Lift Spacers
2x Spring Compressors

Steel Jaws keeps coil springs secured
Fast and safe installation or removal of coil springs
Comes with 2 spring coil compressors with 4 hardware clamps

Corrosion & Oxidation Resistant finish
Includes complete set of high-strength installation hardware
Rigorously tested off road to guarantee safety
Installation instructions
Dodge Ram 1500 Suspension Lift Kits increase ground clearance. The extra clearance for the Lifted Dodge Ram 1500 allows you to install larger tires to gain additional height for better visibility. Larger off-road tires help improve off-road performance. Supreme Suspensions® offers 2", 2.5", 3", and 3.5" front Dodge Ram 1500 lift & leveling options to enhance the clearance, performance, and look of your Dodge Ram 1500.
Dodge Ram 1500 Lift & Leveling Kits
Our Pro-Billet series strut spacer lift kits for Ram 1500 are precision engineered from 6061-T6 aircraft aluminum, then anodized for a superior finish. Billet aluminum is a great material for use in suspension applications as it has an immensely high strength to weight ratio along with a superior level of corrosion resistance compared to many other metals on the market. Unlike steel kits that are cut-out and welded together, our Pro-Billet kits are machined from a solid piece and will not bend or warp under even the most stressful conditions. We complete this kit with our heavy duty spring compressor. This compressor tool helps compress the spring on your strut making removal and installation a breeze. Each compressor tool comes with hardware to secure the tool safely to strut to prevent the spring from coming loose. All Supreme Suspensions products are developed and rigorously tested by in-house ASE certified specialists to ensure the proper road safety.
NOTES: An alignment is always recommended after altering the height of your vehicle.
*DOES NOT FIT MEGA CAB MODELS / REBEL MODELS / WARLOCK MODELS
**NOT COMPATIBLE W/ 2013+ TRUCKS WITH THE ACTIVE-LEVEL FOUR-CORNER AIR SUSPENSION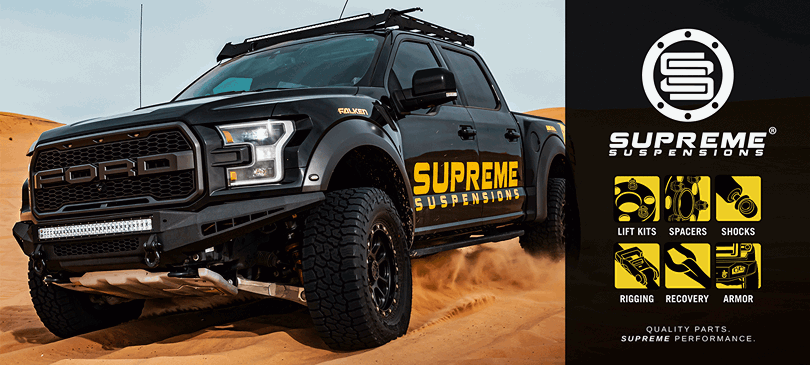 PRODUCT REVIEWS