2005-2016 Ford F250 Super Duty Full Suspension Lift Kit, Brake Line & Bump Stop Relocation Kits & Front Shock Extenders 4WD 4x4
Description:
2x Front Lift Spacers
2x Rear Lift Blocks
4x Round Bend U-Bolts
2x Brake Line Relocation Brackets
2x Front Shock Extenders
2x Front Bump Stop Drop Spacers
Installation instructions
IMPORTANT: Fits Non-Overload Models ONLY.
* PLEASE CHECK YOUR TRUCK'S SUSPENSION SETUP BEFORE ORDERING.
SOME VEHICLES ARE EQUIPPED WITH OEM 2" OR 4" REAR BLOCKS.
FOR THESE MODELS, REAR LIFT HEIGHT WILL VARY BASED ON THE SIZE OF THE FACTORY BLOCK BEING REPLACED BY OUR LIFT BLOCK.
Enhance the look of your vehicle and run larger tires with Supreme Suspension's Lift Kits. Developed and rigorously tested by in-house ASE certified specialists, our products are precision CNC machined using only the latest in metal fabrication technology. Each piece is crafted with the optimal material blend for its specific application and coated with a long lasting, durable finish to protect against the elements, ensuring a lifetime of dependability under even the most extreme riding conditions.
Included in this kit is our newly designed set of U-bolts, ISO 9001 certified and stamped to satisfy the highest quality control standards.
Our perch lift kits also include our specially designed brake line relocation brackets to prevent brake hose hyper-extension during suspension articulation and two bump stop spacers to ensure correct bump stop clearance and prevent suspension from bottoming out.
We've specially engineered our shock extenders to provide our customers with the option to reuse the vehicle's factory shock absorbers to avoid the need to purchase aftermarket extended shocks. Our extenders are laser cut from high-carbon steel to provide precision fitment and extreme strength at your shock mounting point.
NOTES: Super Duties with overloads will require longer U-bolts. Please check your Truck's Rear Setup before ordering. An alignment is always recommended after altering the height of your vehicle.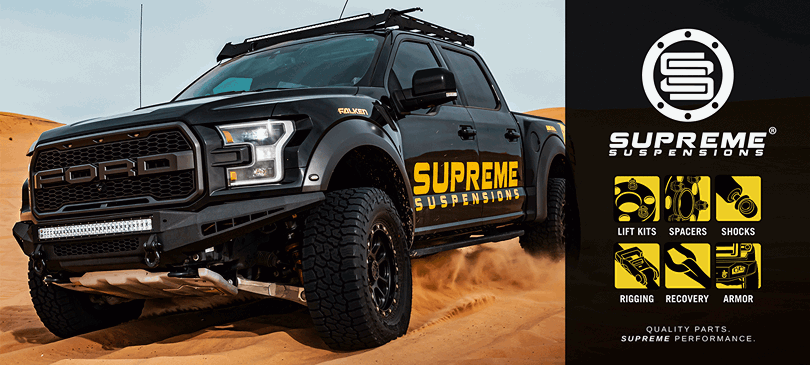 PRODUCT REVIEWS