2000-2005 Ford Excursion 2-6" Lift Adjustable Track Bar Kit 4WD 4x4
Product Number:
A5910 / FDEC00TRKBAR
Description:
1x Adjustable Anti-Wobble Trackbar
TIG welded and CNC machined for 100% Spec. Accuracy and Perfect Fitment

Tube notching using our Bridgeport mill operators for seamless fit to provide the strongest welds.

Combined with a Lift Kit it allows Installation of Plus Sized Tires and Correct Steering Alignment.

Performance Proprietary Coating to protect your kit from even the toughest conditions.

Superior Engineered Product. This track bar will never fail! We guarantee it!

Installation Instructions
Our Adjustable Track Bar is made completely out of Steel Components and designed by the experts with your OEM ride quality and comfort in mind, Supreme Suspensions offers a huge variety of lifts which provide you with the exact height you NEED to achieve the exact look you WANT. The On-Vehicle Turnbuckle Adjustability allows you to align your axle in minutes without constantly removing your Track Bar to get the correct length, while the thick high strength carbon steel design ensures high stability and allows a lift for your vehicle all the way up to 6", without compromising the safety and quality of the ride. A state of the art powder coating was used on the Track Bar that ensures a double level of protection compared to today's automotive standards. Supreme Suspensions leaves no stone unturned when it comes to customer safety and satisfaction so feel free to install our quality parts with your utmost confidence. We have invested in the newest technology and have organized a team of certified engineers that adhere to strict quality controls. Choose the right kit the first time, Choose Supreme.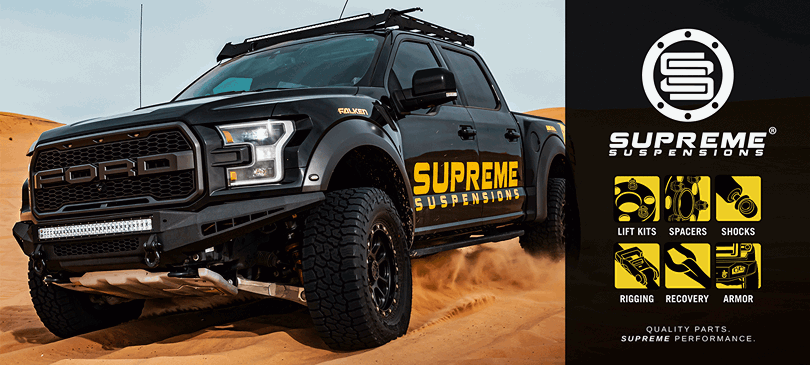 PRODUCT REVIEWS