1994-2002 Dodge Ram 2500 Full Suspension Lift Kit & Sway Bar Drop Bracket 4WD 4x4
Description:
2x

Front Carbon Steel Lift Spacers

2x

High-Strength Steel Rear Lift Blocks

2x Sway Bar Drop Bracket
4x

Premium Electrostatic Powder Coated U-Bolts

Installation Instructions
** U-BOLTS ARE INTENDED FOR VEHICLES WITH 3" WIDE REAR AXLE.
* PLEASE CHECK FACTORY U-BOLT SIZES BEFORE ORDERING*
PLEASE CONTACT OUR CUSTOMER SERVICE TEAM IF YOU ARE UNSURE ABOUT YOUR REAR SPRING SETUP.
Our Supreme Pro-series full lift Kits are engineered to lift and level your truck for a truly customized ride. Each front spring spacer is designed to mount directly to your truck to seat your spring properly without the need to cut or weld. Machined from high-grade carbon steel then hard coated to prevent rust and corrosion when out in the elements. We are proud to offer you our High End Lift Kit made out of High-Strength Steel Components and designed by our experts not only to lift your truck but to improve your ride quality and comfort as well as lifetime use. We have spared no expense and have invested a great deal of time in research and development to bring out to light this top of the line, state of the art Powder coated kit to withstand virtually every environment out there. And to show even more how confident we are in the products we provide we offer lifetime warranty. Supreme Suspensions leaves no stone unturned when it comes to customer safety and satisfaction so feel free to install our quality parts with your utmost confidence. We have invested in the newest technology and have organized a team of certified engineers that adhere to strict quality controls. Choose the right kit the first time, Choose Supreme. Call or message us if you have any questions about our Premium Lift Kits or to place your order today!
Notes: 4WD models only. If you have Over loads or 4" axles please give us a call to place your order. An alignment is always recommended after altering the height of your vehicle.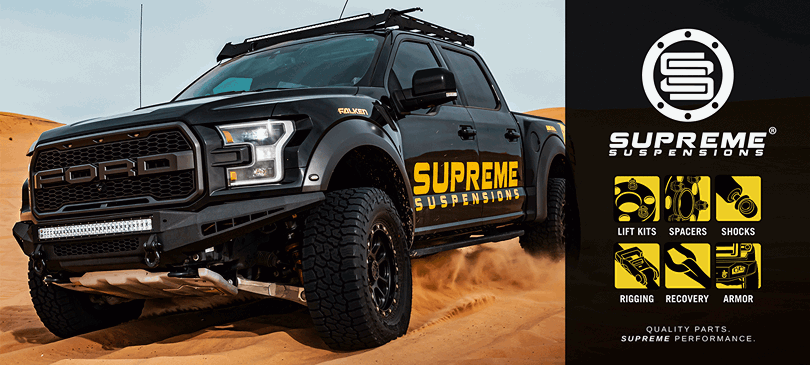 PRODUCT REVIEWS